January 03' - Silvia Saint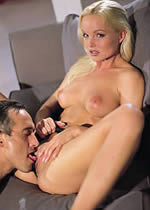 A deal between Private and Penthouse is a warranty of high quality. The film that results from the cooperation of these two monsters of the adult industry can be nothing else than a top product and that's exactly what Call Girl is. Everything in it has to be the best of the best: the director, the images, the scenes, the sets and, of course, the girls! And if we have to choose the best of the best, it is obvious that Silvie Saint had to be the star of the movie.
Silvie Saint was born in the Czech Republic the winter of 1976. This incredible blonde is at the age of 24 one of the most important stars in the adult video industry. She has appeared in many movies and has always favorably surprised her fans. She started working as a secretary in an office, but she soon discovered that she had a very big potential in other fields.

She has starred several PRIVATE films such as Irresistible Silvie, Italian Legacy, Hawaiian Ecstasy, Hells Belles, Xtreme Desires and The Uranus Experiment 1, 2 & 3. Silvie has also appeared in the following magazines: Private Magazine 141, Private Magazine 142, Pirate Magazine 51, Pirate Magazine 52 and Pirate Magazine 53.
PRIVATE: Taking part in Call Girl has surely been an interesting experience.
SILVIA SAINT: Oh, yes indeed! This film has really been an event. It is the first movie done by Private and Penthouse together and we could say that this is historic. I feel privileged for having plaid one of the leading roles in the film.
P: How is it working with Antonio Adamo?
SS: Oh, great! He's so professional! All that equipment, such a big crew, those sets… It was like Hollywood! And all the press wandering round the studio, it was truly impressive.
P: Silvia, let's talk a little bit about you. How often do you have sex?
SS: Well, every day. Working in this business is the most common thing.
P: You're right. Another common thing among actresses of the adult video industry is being bisexual. Are you one of them?
SS: No, I'm heterosexual. Anyway, I have no problems in doing a scene with another woman. In fact, I like group sex very much and in these situations there is more than one woman taking part. But as I said, I prefer men.
P: Men with any special "characteristic"?
SS: No, no, just with a regular size cock, not very big and not very small.
P: Lately, we've seen you in two Pirate films. Do you like fetish?
SS: Oh, yes. It's very exciting indeed. Rubber, whips, leather, sexy underwear make me feel really horny.
P: What about bondage?
SS: No, I don't like being tied up. There are other games, other things I enjoy much more.
Source: Private Shop

Short Biography:
Name: Silvia Saint
Birdate: February 12, 1976
Height: 5' 5"
Eye Color: Blue
Measurements: 37-23-36
Weight: 110 lbs.
Hair Color: Blonde
Ethnicity: Caucasian
Hometown: Kujov, Czechia
Years Active: 1997 - 2001
Hobbies: cycling, reading books, sewing, animals
Silvia Saint titles
updated 1.4.03