Keri Sable
- Dr. D Review

Imagine yourself, a respectable professional, surfing the "other" side of the net while the wife's away. All of the sudden you see your 18-year old sister in positions your cat can't even limber into. That is how feature girl Keri Sable came out to her family, and thankfully she hasn't looked back since.
Keri Sable, born in New York, April 28, 1986, has turned herself into one of the hottest properties in the industry, featured on box covers and staring in, Down the Hatch, Cum Drippers, Barley Legal, Sex Fiends, New Releases, Anal Expedition and Easy Prey, among many others. Although she has east coast blood, she grew up in San Diego and it shows. Her surfer girl looks: blond, supple 34B rack, tan skin and fit frame are enough to make any city dwelling guy run for the beach.
Keri lost her virginity, wasted, at the young age of 14 and it actually took a few times for her to enjoy it as she recently exclaimed before this years Adult Video News (AVN) awards. "Really painful. It was a mess. I'm surprised I had sex after that… It didn't start feeling good until the fourth time. Then I really liked it, too much." Oh how the youth learn so quickly.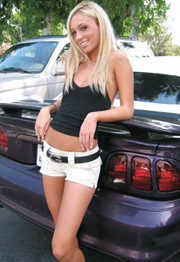 In only 8 months, Keri has already completed a full body of work, making quick work of 4 loads in Gobble the Goop, educating herself in the art of anal from veteran Melissa Lauren in Anal Expedition, swallowing big man Joey Ray from the base to the tip in Easy Prey, and in Teen Fuck Holes she gets an admirable dose of double penetration from long time porn gods Michael Stefano and Manuel Ferrara.
If Keri looks a little different in the next couple months, don't be surprised, she is a big fan of plastic surgery and as well, don't be surprised if we get some drama out of this crazy hottie. "I love plastic surgery. When I was 17, my parents bought me a new nose and a new chin. I started doing scenes a week before my [high school] graduation. I was on a set and [wondering] what time would I be done because my parents were coming to pick me up from San Diego [for graduation]." What dedication Keri – you rock!
Fresh of the podium, diploma in hand, welcome Keri Sable (actually I don't think that's a diploma). Come by the Galleri and pick up the latest from this eager young beauty.
Biography
Performer: AKA Keri Sable, Carrie Sable
Birthday: April 28, 1986
Birthplace: New York
Year Active: 2004
Ethnicity: Caucasian
Hair Color: Blonde
Measurements: 34B-23-33
Height: 5 feet, 7 inches (170 cm)
Weight: 105 lbs (48 kg)

Movies
Anal Expedition 6
Barely Legal Innocence 1
Cum Drippers 7
Down the Hatch 14
Easy Prey
Fuel Injected 2
Gina's Filthy Ho's 1
Gobble the Goop
Innocence: Wild Child
Jailbait (Red Light District)
Last Whorehouse on the Left
New Releases
North Pole 54
O-Ring Blowout
Perfect Specimens 2
Sex Fiends
Sex With Young Girls 7
Smokin' P.O.V. 3
Spunk'd
Squirting 101 4
Stick It In My Face 3
Take No Prisoners
Teagan: Erotique
Teen Fuck Holes
Teenage Spermaholics 3
updated 4.6.05