July/August 2003 - Jodie Moore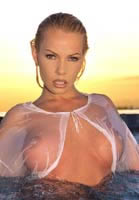 Porn and politics? Who would've thought a beautiful and intelligent gal like Jodie Moore would take on both worlds with high ambition.
Australian born Jodie had been stripping for a number of years before entering the adult industry and consequently into politics. Although Jodie had become an elite girl in Australia for her stripping and dancing talents, she decided she needed more exposure and signed a contract with Private, the largest European adult studio.
Since joining Private, Jodie has starred in a number of blockbuster titles such as the Scottish Loveknot, Michael Ninn's Perfect, and Private Sex Survivor. Unlike most blondes in the industry, Jodie radiates elegance, charm, and sophistication that might be the result of her curiosities in politics and finding more to life than partying and having sex (she is well invested in both no doubt).
Jodie's current ambition to run for Brisbane's Lord Mayor in 2004 is picking up steam. She has a registered political party named Porn Star Party whose constitution is being written and claims that current Lord Mayors (of Australia) don't do much when it comes to the day to day running of the city. She promises to put Brisbane on map internationally, create an Amber Alert system, organize a 'Brisbane bares all festival' (clothes optional), and a number of progressive ideas promoting sex, recreation, health, and employment.
For further information on her political campaign visit http://www.jodiemoore.org or stop by the Galleri if you have no interest in politics and would much rather see her down under!
Click here to see Jodie strip! (3.5 MB)
Pictures

Short Biography:
Name: Jodie Moore
Aliases: Jody Moore, Little Jody
Birthplace: Australia
Age: 26
Hair color: Blonde
Eye color: Blue
Height: 5' 0"
Weight: 100
Bust: 34C-24-34

Jodie Moore titles
updated 7.22.03