July 2004
Jesse Jane
- by Dr. D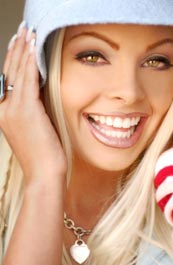 Is every hot girl in the world from Texas?
Recently a major national magazine did a "Texas Tribute" pitting Jessica Simpson vs. Brittany Spears in their "Texas Showdown" - arguing which Texan was more beautiful. It's too bad the people writing this column didn't consult Dr. D, because I would have quickly filled them in on the nations hottest, sexiest, blossoming secret: The best looking Texan aint singing to pop music to teens, she's moaning her brains out in Van Nuys, showing the world what hot really is and easily earning Dr. D's July 2004 girl of the month.

If you don't know of Jesse Jane, you should stop what you're doing and head on down to the Galleri for a complete introduction. This girl is the true definition of a rising star. Beginning her career as a model, she posed for a variety of major retail chains such as "5-7-9" and "David's Bridal." She is also an ex-Hooters girl with 5 years under her shirt. Her Hooters accomplishments include rumors regarding her making a little naughty in the restaurant bathrooms and an advertising spot for their national advertising campaign.

Additional notes about this buxom blond include her nominations as a finalist for Miss Hawaiian Tropic, "Miss Photogenic" award winner in the American Dreams Pageant and a walk on role in Bay Watch: The Movie.
So I know, I know, you all could care less about her modeling career – the real question is how does that face look covered in cum? And that is exactly where the rest of this column is going.
The first Jesse Jane title I picked up was Erotique. After popping it into my player I quickly realized that Belladonna is the luckiest person on earth. This girl has hooked up with Jesse Jane and Cytherea – 2 "Galleri Girls of the Month" – Wow! With a strap on in a motorcycle shop, these girls both play boss and start the movie off in grand fashion. Jesse finishes the film with another lesbian scene as two straight scenes are sandwiched in the middle of title, the first with Dick Delaware and the next with Mark Davis. Both of the male scenes are straight/oral and overall the title is packed with good action.

For the POV fans out there you are in luck, as Jesse has given us a treat – Virtual Sex with Jesse Jane. Much like all the Virtual Sex movies, you are able to control the actions of the girl. Movements Jesse has optioned for us include: Strip, Stories, Foreplay – Fingers, Dildo, Breast, Ass, and Sex – Missionary, Cowgirl, Doggy and Reverse Cowgirl. The ability to orgasm on command is wonderful and for people looking for a title of pure 100% uninhibited Jesse Jane – this one is for you.

The last title I picked up was Beat the Devil, which is turns out was Jesse's first boy-girl scene. Although it doesn't appear in the order of the film, her boy-girl scene was with Mark Davis. The scene is oral girl, oral guy, reverse cowgirl and Mark finishes on her belly.
Watching Jesse reverse cowgirl is like looking at the Mona-fucking-Lisa, her tits are so big and she rocks his cock so well, it really makes for a truly heartfelt moment. In Jesse's only other boy/girl scene in this movie she fucks Evan Stone and the scene finishes with Evan showing his gratitude all over her tits. To give you an idea of how much this scene rocks, I thought I would let you know what Jesse had to say:
"I would say that it was one of the best experiences I have ever had, on or off screen. He threw me around he was passionate and intense. Evan fucks so good. You can see in the behind the scenes footage that we just wouldn't stop. We started fucking before the scene started, we fucked when they said cut and when the scene was over we kept fucking. We even fucked in the shower while we were getting cleaned up."
I love you Jesse Jane, I love you.

Jesse has not done anal on screen yet, and although she admits she doesn't like it, she will incorporate into future scenes just for us fans. Until then we will be forced to like our lips and stare at that awesome ass.
Jesse Jane is a Digital Playground contract girl and much like Wicked Pictures, they are known for their quality not quantity. Although she does not have a million titles, she has enough to kill a few Kleenex boxes and the Galleri has a majority of them – pick some up today!
Name: Jesse Jane (aka Jessie Jane)
Home: Fort Worth, Texas
Age: 24
Years Active: 2001 to present
Measurements: 34D/22/33
Eyes: Green
Hair: Blonde
Height: 5'3"
Weight: 108 lbs.
Website: http://www.jessejane.com
Beat The Devil
Erotique
Jack's Playground #8
Jack's Playgound #10
Loaded
No Limits
Older Women and Younger Women
Three Timing
Virtual Sex with Jesse Jane
updated 6.30.04