September 02' - Jenna Jameson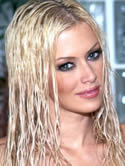 f you think of Jenna Jameson as one of the most beautiful women in the world, you're certainly correct," announced VSDA (Video Software Dealers Association) Chairman Tom Warren, who recently awarded Jenna their first 'Adult Star of the Year' award. "But she's more than that. She's a very intelligent lady. She's a multi-talented individual."
Jenna has made a mark on the adult industry that will not be forgotten. She was honored with the 1996 AVN Best New Starlet award, Best Actress and Best Couples Sex Scene, marking the first time a new starlet has won all three awards. Since then, she has been honored with more awards than any other new performer in the history of the adult industry.
Jenna's mainstream credits include the movie Private Parts, and two episodes of the CBS television show Nash Bridges. She was also listed at #31 in For Him Magazine's (FHM) 100 Sexiest Women of the World 2001, surpassing big stars such as Julia Roberts and Tyra Banks.

source: AVN News
Short Biography:
Name: Jenna Jameson
Real Name: Jenna Massoli
Birthyear: April 13,1975
Eyes: Blue
Height: 5'4"
Weight: 105 lbs
Measurements: 34D-23-33
Years Active: 1995 - present
Ethnic Heritage: White
Hometown: Las Vegas, Nevada