August 02' - Jenna Haze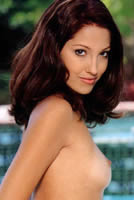 enna Haze is 20 years young and a combination of German, Irish and Spanish, which translates to breathtakingly beautiful, in a Jennifer Love Hewitt kind of way.
Sexual by nature, she dreamt of becoming a porn star long before she was of legal age to pursue the haughty career. As soon as Jenna turned 18 she began exploring her options and by early 2002, already a rising star, the lovely lady entered into an exclusive contract with one of adult entertainment's leading production companies, Jill Kelly Productions.
"She looks like such a sweet and innocent girl, but put a naked dude or chick in front of her and she turns into this nasty, wild sex fiend," says Jill Kelly, President/COO of Jill Kelly Productions.
As any viewer would agree, Jenna Haze's performances stand out. She is enjoying every second, and it shows, "we're gonna fuck my ass hardcore" she'll proclaim. Experience her wild sexual drive and other performers will seem tame in comparison.
source: Porn Industry news
Short Biography:
Name: Jenna Haze
Birthyear: 1982
Eyes: Brown
Height: 5'3"
Weight: 95lbs
Measurements: 34B-24-34
Years Active: 2001-present
Favorite Position: Doggie Style
Ethnic Heritage: Spanish, Irish, German
Hometown: Fullerton, California