October 2003 - Daisy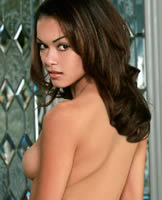 Prettier than the flower she is named after and undoubtedly more extraordinary than the flower's plain white petals, Daisy brings three very desirable traits to the adult entertainment industry: beauty, sex appeal and of course her youth. And this month, Galleri brings her to you as our featured star for the month of October.
At only 19 years of age, Daisy has acquired quite a resume. She can be seen in 66 films to date with her latest release being "Driving Miss Daisy" with Video Team. In May of this year, Daisy signed an exclusive contract with Video Team, the leader in the production of ethnic adult films.
Along with the signing to Video Team came also a contract with California Exotics, a top dog in the adult toy and novelty realm. Known for their signature star lines, such as Tera Patrick's line of sex positive toys and novelties, Daisy is very excited about the development of her own Daisy/Latina line of products. "I like that California Exotics cares about women and out point of view. I can't wait to see what we come up with. I promise you, it'll all be very exciting", said Daisy.
And Video Team and California Exotics are both very excited about the partnership. The Latino market is the fastest growing demographic in the country. Though the specifics of the contract are unavailable, both companies have confirmed that the agreement revolves around a one year/multi-picture/multi-product/multi-appearance deal.
I don't think they could've picked a better spokesmodel to represent the Latino community. She's beautiful, sexy, intelligent and at 19, she is sure to be around for years to cum.
Don't forget to check out Daisy's newest release, "Driving Miss Daisy". And, make sure you pay us a visit at Galleri's South San Francisco store and enter our October drawing for a chance to win an autographed VHS copy of Daisy's "Driving Miss Daisy". See store for details.
Short Biography
Name: Daisy
Weight: 100
Height: 5'4"
Chest: 36B
Waist: 24
Hair: Brown
Eyes: Brown
Dress: Small
Tattoos: Heart with wings on stomach, Angel on back with flower. Three dots on elbow. Name on left ankle.
Turn Ons: Girls with big breasts (not implants).
Turn Offs: Skinny men.
What makes a man/woman sexy? Their toes.
My fantasy: A big orgy with lots of girls

Daisy's Titles
07/05/03 Angel X
04/27/03 Barely Legal #35
08/07/02 Black & White ...a Movie
02/02/03 Body Talk
02/27/03 Bring'um Young #12
02/19/03 Casting Couch Confessions #10
08/16/02 Chica Boom #14
05/01/03 Cum Dumpsters #02
09/04/03 Driving Ms. Daisy
05/16/02 Gangland #32
12/06/02 Hot Bods & Tail Pipe #26
06/02/03 Hot Showers #10
12/22/02 I've Never Done That Before! #08
03/14/03 Inside Shooters #01
11/20/02 Internally Yours... #03
05/01/03 Mamacitas #02
08/07/03 Mamacitas #03
10/05/02 Naughty College School Girls #26
05/31/03 No Man's Land Latin Edition #03
09/11/03 No Man's Land, The Best of #03
09/07/02 North Pole #33
10/31/02 Pussy Foot 'N #01
10/02/02 Raincoater's Point of View #02
10/20/02 Real College Girls #05
08/02/02 Screaming Orgasms #07
07/07/03 Search and Destroy #03
10/13/02 Specs Appeal #08
09/23/02 Sweatin' It #03
04/15/03 Teen Sensations #03
03/09/03 Two Dicks in One Chick #01
07/07/03 United Colors of Ass #10
05/30/03 Up & Cummers #113
10/15/02 Whoriental Sex Academy #04
08/12/02 Women in Black #02
10/14/02 Young Stuff #08
03/26/03 Young Tight Latinas #02
10/28/02 Young as They Cum #07
04/14/03 Young as They Cum #10
04/22/03 Young as They Cum #11

updated 10.10.03