November 02' - Carmen Luvana


armen Luvana, a five foot three inch dynamo signed a coveted exclusive talent contract with New Sensations/Digital Sin before she had ever appeared in an adult movie production. This Puerto Rican beauty was discovered in the hot nightclubs of Southbeach Miami where she was driving the men crazy with her sexy good looks and her crazy Brooklyn influenced accent.
Mix Puerto Rican sweetness, Brooklyn street smarts, and top it all off with hot Miami salsa sauce and you can understand what runs Carmen's engine. She is the Puerto Rican beauty with the all American good looks. Blond hair, deep brown eyes and a tiny body gives Carmen her unique youthful look that is turning heads and making temperatures rise everywhere. It was on the set during her first starring role in her feature movie 'Innocence' that Carmen was so turned on by the wild sex that she was having on camera, that she could not stop when the director yelled 'cut'. "I was so turned on at that moment that I couldn't hear anything they were telling me. I just wanted to keep doing it and I completely forgot where I was".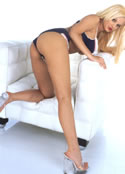 Carmen loves to travel and is very excited to have the opportunity to see the world and meet new people in her new role as a contract star for New Sensations/ Digital Sin. Sex is her favorite activity and she never passes up an opportunity to mingle with her fans by signing autographs and posing for photos. It is very clear that this 20 year old bi-lingual sex kitten is the center of attention wherever she goes, but Carmen has a sincere way of making those in her presence feel as though they are the main item on her menu. Take a closer look into Carmen's world and get to know her on a personal level. You are sure to agree that this girl is going to be the next adult sweetheart star. It's Ok, you can fall in love now!

biography source: New Sensations
See Carmen Luvana LIVE @ Galleri on November 23